Looking to swap my big honkin ABS unit out for just a normal brake system for room for turbo setup. If anyone could point me in the right direction that would be great...


3800 SC Swapped

the under the hood ABS? I would guess that would require a new Brake master cylinder that wasn't ABS. right?
I'm in Tysons, VA. You near by? It would be nice to see another modified j-body on the road around here. haha.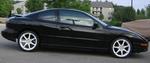 Some j's were offered without abs. Pickup a non-abs version and plumb it in.
you can also use a non ABS dist block.
FU Tuning
Thanks for the info. I dont live in VA anymore. Ive been in pittsburgh for about 10 years now.


3800 SC Swapped