I'm looking for a single gauge pod for my '03 Cav. I see them listed for '95-'02, but not'03-'05. What's the difference between the two a pillars? I might have to just get a 3 gauge pillar if i can't make the single one work.

I know on the early A pillars the trim would go all the way down the headliner attaching to the B pillar cover.

I have never seen a 3rd gen having trip that went all the way from the A pillar to the B pillar for a coupe. I have owned a 95, 97, 2000, and a 2000 z24 and they all stopped at the headliner. Now 1st and 2nd gens did but they were before 95.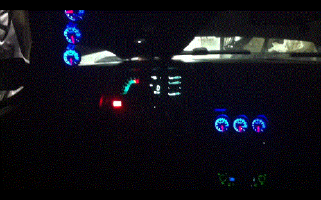 On the inside my car looks like a fighter jet.
Yeah my bad forgot to mention that. It only went back on the sedan. Coupe your fine they should be the same

So the single gauge pod will fit my '03 even though it says '95-'02? It's just weird because even the full triple gauge pillars have different part numbers. I don't see why GM would have redesigned them in '03. I'm looking at the glowshift pods.

Now don't quote me on this but I believe there was some extra reinforcement done to the pillars around the 2000 time frame that had to do with rollover crash rating or something and sound dampening. That could effect the clips as for as the covers go.

As for the glowshift pods since they just go over the existing pillar this should not effect much. Someone else should be able to verify the whole pillar change but I think I remember reading that somewhere. Don't think it effected the covers though.

As far as I know all glowshift gauge pods replace the factor trim except for the universal ones. I am using a glowshift 3 pod universal for my 89z24. I you use a universal you will need a heat gun and a fiberglass or how ever you want to attach it. I used an Heat gun and JB Weld to put it in place till I finish my the car then I will mold it and and paint it. I have 7 glow shift Elite 10 gauges. They are very nice. Email glow shift and ask them or use their live chat.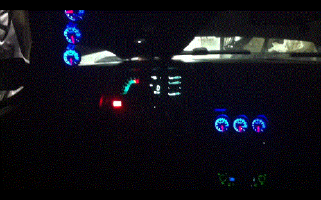 On the inside my car looks like a fighter jet.
I have the glowshift for the 03-05 and it is just a cover. Used 3M double sided adhesive to attach it and it worked well.

There are differences in the headliner from 95-02 and 03+. The headliners in 03+ have extra styrofoam and insulation behind them, and the pillars are shaped differently at the top. If you have an 03+ headliner you have to use an 03+ pillar pod or it won't fit properly in place. If you have a 95-02 headliner and use an 03+ pillar pod, there will be a gap of about an inch at the top of the pillar. I discovered this when I swapped to a charcoal 95-99 headliner. As a side note, the rear inner side panels are different as well. The 03+ are thicker at the top and if you swap to a 95-02 headliner, there will be a gap at the top of the panel between it and the headliner unless you swap the panels as well.
The good thing is, everything is easily swappable between both styles so if you really are set on the older style pillar pod, you can swap the headliner and rear kick panels as well and everything will work just fine.

Currently #4 in Ecotec Forced Induction horsepower ratings. 505.8 WHP 414WTQ!!!
Currently 6th quickest Ecotec on the .org -12.453 @ 116.45 MPH!!!
What Roofy said is true.
But the 03+ pillar is differently shaped on top of it. So that single pod might not fit 100% right, but I'm sure it could be used.
Also check out this place
custom pods
They can make any pod setup your looking for.
FU Tuning
Thanks everyone. I've decided to put a pod on my steering column. Still good info on the trim panels and headliner though

So I Didn't like the gauge anywhere on the steering column so I decided to try the Glow shift '95-'02 single pillar pod since it was only $15 shipped on Ebay. It came in today and it does't fit the shape of the '03 pillar. seems like the '03 pillar is thinner then the older ones. I got it to fit OK by screwing it in but it looks pretty ghetto. I'm going to rock it for now though because I like where the gauge is.
I threw the gauge in real quick to see how it looks, I still need to wire up the light and hook up the vacuum tube. It looks like it's touching the dash but there's about 1mm of space
Ive got a custom single gauge pod i could sell super cheap......came off my 03...if interested pm me and I can get pics and such for you....
And by cheap I mean $15 + shipping cheap