ok guys ive done alot of internet research, and searching on the forum here, and i cant seem to find anything about what i want. i need clear directions on fixing the odometer light burning out. i tried the ike smack and it doesnt work. can anyone shed some light on how to resoldier it or what do you replace it with?,,,,,,,,also i would like some information on swaping the original lights to leds. i have a 2002 chevy cavalier......i have seen the tutorial on the 99 models and it wont work for mine. i need supplies on each of the repairs and a tutorial. so any help would be great guys thank you

If you can properly solder on a PC board, you can perform and figure this out.
However, the reason the tutorial on the 95-99 will not work on yours is because the 00+ needles typically come off with the shaft of the stepper motor in them, rendering the motor useless. You can find new motors on ebay if you want to tackle this, but you're going to need to be prepared to do this if you want to open up your cluster.
The way to make your needles line up correctly after the project is the following:
Get a 9V battery, or a 12v AC adapter, computer power supply, whatever, and attach leads with alligator clips to it.
before you break into the cluster, touch the clips to the diagonally oposing terminals on each gauge motor (you'll see that there are 4 of them). Try one pair first. If the desired result is not achieved, try the other. You may also need to swap the positive and negative leads. However, the goal is to get the needle to move to a position, and then mark it on the gauge face using something like a little strip of colored electrical tape.
Once you have done this, make note of the polarity and which terminals you touched, so that you can do this when reassembling the cluster later, and your needles will be in the correct positions.
Edited 1 time(s). Last edited Friday, November 08, 2013 7:05 AM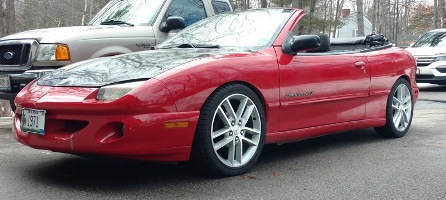 I also need help with my cluster in my 03 cav my gas gauge is going absolutely nuts. I am going to buy a stepper motor off ebay. I have the problem with the odometer light some times it goes out but w.e no big deal. I need to know what size bulbs I can get to make my entire cluster LED and how many bulbs do I need.

i too would like to replace the lights to UV LED's, and i have the same prob, the odometer light is burnt out, and i'd like to see how many miles i can get to a tank of gas lol.
just got me a Z24 that needs some TLC