is like spitting on your car's face and pride.

It makes sense to upgrade your stock seats to aftermarket ones, that look better, but when you go around swapping, from cavalier stock seats, to camaro seats

is like spitting on your car's face, you are basically telling your car, "you suck", and your cousin is much better

is like cutting your skinny arm, and then implanting your cousins, buffer arm on yourself, is an insult, to your pride and self

This dude swapped his cavalier seats for camaro, and everyone says "nice upgrade", how is that an upgrade? just because they are leather seats?

Just because the seats are more sporty looking, and belong to a faster car? Can't you see how doing this is actually a way of saying, that your own car sucks?

You realized the interior sucks from factory, so any other seats, even from stock cars, seem like an improvement to you, because they were made with better quality, that the cavalier ones

everyone knows the camaro, whenever anyone sees your car's interior, they will instantly know, that you swapped them for camaro seats

is like installing a bmw badge on your car, or some other car's part on your vehicle, is an insult, they will see that, and consider you cheap

why would you go and do that, and when you can be original, and get after market, there are hundreds of styles out there, which will make you different, and not a @!#$ clone

"A car just isn't a car without a little blood, sweat, and beers." -- Shadowfire
You obviously feel strongly about this. Thats fine. There are many reasons that people swap to different parts from different vehicles, its not because stock stuff sucks. The stock car cannot fit everyones preferences, there are a lot of people. Its not an insult. Its very simply, people adapting their vehicle to better fit there preferences. If you don't like it thats fine, do what you think is best.

What if they just want more comfortable seats? Should I go spend 2000 dollars to get a new car just for the seats or 1-200 dollars to buy new/different seats. Or how about if my seat is broken. Should I scrap my car instead of getting new seats?

I didn't want to have to say this but after this post it's just become very needed.

You sir are an utter moron. Please go away. You will not be missed.


2002 Pontiac Sunfire SE Sedan 2.2l Ecotec 4 Speed Auto.

I love this guy! He whines and bitches about everything just to get a rise. Its great! I wish my life had no meaning I had to trololololol forums...

If i swap seats from another cavalier BUT they're a different colour. Is that ok??? i need to know

What if the seats from another car are recaros or some other racing seat. They are the original seat but an aftermarket brand?

And going from cloth to leather is an upgrade by the way that's why manufacturers charge more for leather seats. Leather lasts longer is easier to clean and is a higher quality material.

Why not aftermarket because junkyard seats are maybe 100 buck where as most aftermarket seats will bare minimum cost 3 times that price.

You said installing a part from another car is an insult too so does that mean I can't use parts from the cavalier on my sunfire? Because cavalier parts are easier to find than sunfire parts around here so when something breaks is it less of an insult to leave it broken? Or what about people with the m62 supercharger kit from the cobalt ss? Or the Saab turbo setup?


2002 Pontiac Sunfire SE Sedan 2.2l Ecotec 4 Speed Auto.

Edited 1 time(s). Last edited Tuesday, July 15, 2014 5:05 AM
Attachments

diaf_troll.gif (35k)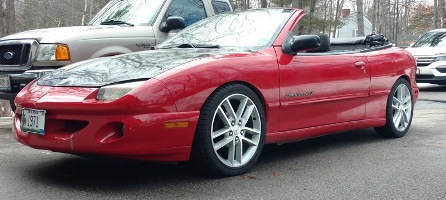 So is it bad that I swapped a 3500 v6 in my car??
C:\Users\Phillip\Pictures
I have sunfire hubcaps on a cavalier right now and I don't care who knows about it

Swapped out the dirty light grey stained and cigarette hole seats (bought it that way...not my doing) from my 96 convertible for the dark grey (almost black) from a 00 parts car. Looks 100% better.

It's just a crapalier, whats the big deal? No one takes a cavalier seriously so that's why it's a good project car to see what you can get away with before trying modifications/upgrades on a nice car.

I once had a 1968 Impala that had a milk crate for a drivers seat. That probably was an insult,,,, but it worked,,, sorta.
At the time I also had a 1969 Grand Prix that I took the seats out of and put them in the Impala. That too might have been an insults, but it was far better on the back and the backside than the milk crate was. So, I'm guilty of insulting a car or two by changing the seats. Let me see,,,, I really have done a lot of worse things in my life, so I'm not going to feel too bad about using seats out of a different car. It was a very minor offense actually.

Back to the Grand Prix. I took the 375HP 400 out of it and had custom mounts/cross member made so I could put it in a 1971 Firebird. Another insults, but it was fast enough to overcome any shame (or insults) brought about by changing engines. Oh no, while tying this I remember I also took a 428 out of a Bonneville and put it in a 67 GTO. Damn, that's at least twice I've insulted my cars. Oh well, I can only say, there may have been other examples too, but I don't feel any remorse for them.