They should pull right off with little effort. If you're fighting with them and they're not coming off, someone probably glued them on. LOL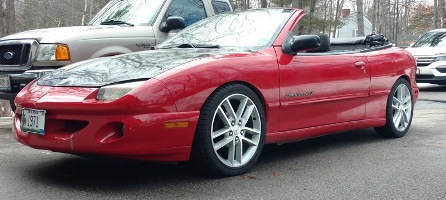 Hmm ok. I'll have to give it another try I hope they're not glue do that would be a real pain I the neck.


2002 Pontiac Sunfire SE Sedan 2.2l Ecotec 4 Speed Auto.

backpacker3 wrote:

I'm just going to bring this thread back instead of making a new one so don't get mad. But anyway how do you get the hvac knobs off? I can't find how to do it for nothing. I tried the old standbys already pulling until I think it's about to either pop off or break, taking every thing around it that I could apart, hitting it with whatever tool was in my hand at the moment, you know the usual stuff. But nothing worked how do you do it???
thank you for not making a new thread. there's little tabs around the back edge of the knob that stick out into the rubber cover. bend the edges and it'll break those tabs, then you can start peeling the cover off. or I can sell you a clear set for $30.
this is the start of my signature: have you read the
RULES
yet?
my carDomain
updated 6/11/10 Forged and Supercharged