Hey guys, Im a J-body newbie so please forgive me if Im putting this in the wrong section. I have a 99 sunfire coupe and I wanted to see how you remove the back portion off (where your back sits on). I was able to remove the bottom (had to wire an amp) yet from what I see there is no bolt or anything with it.

Anyone know how to do this? Also what rear seats fit in these cars. I would love to find leather but if not illl see if I can find some decent seat covers for now if anything.

AFAIK, you can not remove the backs without drilling out the rivets. It's been a while since I've had a J-body seat apart, but I'm pretty sure it was riveted together, not bolted.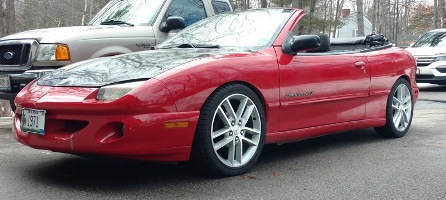 Are you talking about the rear seat...upper for lower portion?
-MD- Enforcer wrote:

Are you talking about the rear seat...upper for lower portion?
Haha. After reading his post again, I believe he is.
To answer the question, there is a clip on on side of the seat where it pivots. You must remove this clip, then the seat will slide to that side so you can remove the other side, then the side with the clip will come out.
As for what other seats fit, there are many, but none are going to simply install like the factory seat. Every one will require modifications. The leather SRT-4 Neon seats have been installed by a couple of members, and they look great.
Edited 1 time(s). Last edited Monday, November 11, 2013 7:18 AM