Bill Luce wrote:


130+ 1982 Camaro with dry rotted tires back country road 2 am

A stock 82 camaro over 130mph? What was towing it?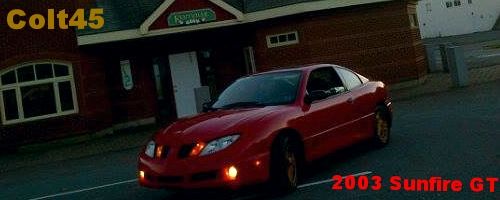 LOL, what was pulling it, LOL now that's funny!

'82 Indy 500 replica pace car with the crossfire injection with a built 350 engine. posi traction 4 wheel disc brakes, headers no cats duel exhaust. not all stock for sure but I didn't do it.
Later I did add $2000.00 700R4 and 2500 RPM stall converter and B&M shifter. I want to say it has a 2.73 final drive gear set in the rear at least I think that's what the factory tag attached to the rear diff said.
After running it flat out for several miles I'm guessing at the 130+MPH and I'd put a fat stack of money on it!
I would also roughly estimate the car would do about 100 in the quart mile. never had it on the track since it leaks a little oil and did not want to cause an accident.

Monday I'm going to get my 3.4 for my cavalier.
I'm making a video documentary of the process. I've gutted the engine bay cleaned the surrounding area welded in some patches on the frame. It was just a little rusty in a couple spots.
I've replaced the brake lines and removed the fuel tank and rust lines. I'll get the new tank soon and use plastic fuel lines to replace the old rusty steel ones.
I've also used the lifetime copper type brake lines; they look nice all polished up.
My hope is to get this car up over 140MPH with the help of a cheap turbo and 25 shot of NOS and some computer tweaking.
I'll get some "w" rated tires for before I take over 120.

Do they make high performance wheel bearing for these cars?