On Wednesday, January 19th, 2005, I entered the parking lot of my workplace, which I will keep anonymous. Of course it snowed all day, and they did not plow the lot one time. As I was turning down the isle towards my parking spot, I hit a patch of ice and went for a ride. Next thing I know I'm heading directly toward a brand new Chrysler 300c, yes the one with the hemi. Quick thinking I attempted to turn away but only managed to turn away enough so that my corner hit instead of my front. Which is probably a good thing, because at least my airbags didn't go off, but now for the damage....

The Chrysler has a dented bumper, and a scuff where I made contact, my car on the other hand seemed to explode on impact. Imagine this, take a small stick of dynamite and put it inside the headlight casing, when it goes off it leaves a curled up hood, bent fender and no more bumper on that side....well that's what my car looks like.


I would say that in the battle against the 300c, I lost.

wow that stinks. I don't know what it's like to drive in ice, but that sounds horrible.. good luck fixing it up! <br>

-----------
Words that you can't use in modding: Finished, Perfect, Cheap.

Quick view of your profile shows you work at Circuit City
......
So much of keeping it anonymous eh?

I dont think you had physics on your side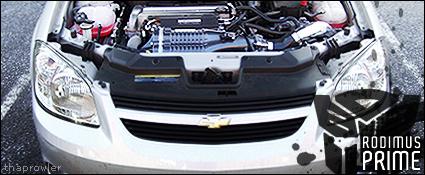 1989 Turbo Trans Am #82, 2007 Cobalt SS G85