My girlfriend Kate was going to my house last night. i live 3mi. outside town on teh highway. Deer are quite fond of the woods around my house and needless to say she f#*%$ed her car up. She said there were "Like a whole bunch of deer in the road!!!!" so she swerved and lost control (because she doesnt know how to drive) and ended up hitting a deer and putting her car in the ditch. 97 cavi- front bumbper is not longer attached to the car. Radiator is shot. Ripped the whole driver side suspension and brake assembly off. Cracked windshield and set off the bags. Radio is okay though--it still works she is okay, and hot as ever. But the car is totalled. i dont know how she didnt roll the car, but however she did it im gald she didnt get hurt. Car is done and she is scared of driving at night on the hwy. Needless to say she is in the market for a new car. Get some pics soon!!!!!!!!!!


don't go home mad, just go home

dude that sucks glad shes ok though. good luck to her and you both....
As long as she is still hot as ever
j/p. Glad to hear she's ok. Hopefully it was fully insured, and hope you guys get a new one soon!
Brakes? I don't need no stinking brakes....I have air bags
http://members.cardomain.com/charlzo_2000
deer suck
i slaughtered bambi , and ended up with about 1500.00 in cosmetic damage
glad she is ok
I hit a deer last year and caused $2500 damage. But the airbags didnt work lol had a sore head for awhile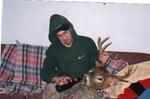 "Hick's can own J'body's too"
Just got my car back from the shop because of a deer. about 7k Canadian


03z24

7k in damage? You have got to get some pics of it.


]

Check out Battle Damage, there are before and after shots


03z24