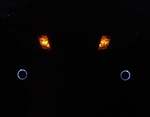 CHRIS NOTTKE
blkcav
Location:
florida
Joined:
Saturday, March 15, 2003
Last Update:
Thursday, February 7, 2008
Email:
blk2cav@aol.com
Web Page:
http://www.myspace.com/cnottke
2002 Chevrolet Cavalier LS Sport

About This Vehicle:


this car is my daughter Kyrstin's and my project and daily transportation. on the 12th of july, 06 it was hammered from the rear and pushed through an intersection into the waiting class 3 trailer hitch that took out the pieces the cars from behind missed. 3k in superficial damages alone, so far, and 4 years of work down the tubes.... or was it....????? Let the "CAVFUSION" begin.

Body Style: Coupe
Color: black
Engine: 2.2L DOHC
Transmission: Automatic
Interior: grey cloth
Purchased From: palm chevy< ocala,fl



MODIFICATIONS

Engine:

rk intake
magnaflow cat-back ex
optima yellowtop

Suspension/Wheels/Brakes:

tein basic damper setup
enkei rsv wheels ( bought the first week they came out haters lmao)

Interior:

have the '05 fire dash
ordering seats and matchin wheel but whose... not sure yet. thats on hold right now. want the vis evo hood first i think.

Exterior:

old was full bomex kit in black... new----- '05 sunfire bomex front w/ 'fire heads
bomex sides
andys kato combat rear with some mods
some big goofy wing that matches the ground effects that everyone wants and i hate
factory fenders with escalade vents molded in by me... paint... aint sayin yet.

Audio:

all wire and distribution stinger expert series
4 stinger 800 batteries
1 yellowtop optima
subs are jl 13w6's (2)
everything else is ALPINE. type-X 6" mids tweets middbasses
2 mrmd1001 sub amps(1k watts each)and their amp controller in the roof
2 mrv t320 amps- 1 in each door (for the jl 10's in each door on their way)
1 mrvf545 for the type-x sets in the kicks. thats the start so far... oh yeah
alpine head unit- 7998. recently added the alpine 701 processor.

Miscellaneous:

im doin the fiberglass and suede work myself in my spare time with the help of my daughter KB.

Future:

probably more ALPINE. I LOVE ALPINE....... PAINT!!!!! ALTERNATOR- A BIIIIG ONE. AIR RIDE CUZ IM TIRED OF TEARING UP THE FRONT EVERY TIME I LEAVE THE HOUSE.