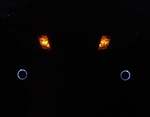 CHRIS NOTTKE
blkcav
Location:
florida
Joined:
Saturday, March 15, 2003
Last Update:
Thursday, February 7, 2008
Email:
blk2cav@aol.com
Web Page:
http://www.myspace.com/cnottke
1998 Chevrolet S-10

About This Vehicle:


C'MON- ITS MY DAILY DRIVER SO I DONT TEAR UP THE CAVFIRE ( LIKE ALWAYS SEEMS TO HAPPEN)

Body Style: Truck
Color: BLACK/GOLD
Engine: VORTEC 4 CYL
Transmission: Automatic
Interior: CHARCOAL
Purchase Date: JULY 06'
Build Date: LMAO- NEXT PROJECT



MODIFICATIONS

Engine:

A WHOPPING 116 HP FLAMING HOT HAMSTER
IN SELF CONTAINED WHEEL.

Suspension/Wheels/Brakes:

WORN OUT
STOCK ROLLERS WITH CUSTOM MISMATCHED TIRES.

Interior:

CUSTOM DIRT STAINS ON FLOORBOARD COVERED BY OVERSIZED MATS.

Exterior:

MULTIPLE DENTS
FACTORY PRIMED HOOD AND FENDERS
INTERMITTANT WIPER MOTOR LIKE MOST CHEVY TRUCKS SEEM TO HAVE.

Audio:

WHATEVER I HAD FOUND IN MY GARAGE LEFT OVER FROM PREVIOUS CARS- PIONEER
ROCKFORD FOSGATE
INFINTY TWEETS
SONY AND AN AUDIOPHILE ROCKFORD SUB FROM 1993 OR SO. LOL. ITS LOUDER THAN THE CAVFIRE--- ROFLMAO.

Miscellaneous:

I BOUGHT THIS TRUCK FROM A SALVAGER
SALVAGE TITLE AND ALL. I NOW HAVE THE REBUILT TITLE
BUT DONT TELL THE EX WIFE
SHE MIGHT WANT TO TAKE IT FROM ME!!!

Future:

I WOULD LIKE IT TO BE ALL ONE COLOR
SO I GUESS ILL HAVE TO WRECK THE 'REST OF THE PANELS. LMAO!!!! ITS MY DAILY DRIVER NOW. I HAVE TO SINK EVERY PENNY INTO THE CAVFIRE. I JUST KEEP IT RUNNING... BUT IT IS IN REALLY GOOD SHAPE FOR A 2000.$ INVESTMENT
AND I DONT HAVE TO HEAR THAT DAMN BUZZSAW MUFFLER NOISE!!! GOD I LOVE THAT PART OF IT!! SO QUIET INSIDE.. LMAO.